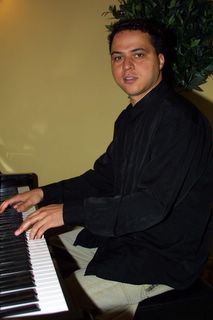 © Julie Coates, 2005
Pianist, Alex Wilson, wrote a new piece, 'Sands like Latin', specifically for JAZZAID 2005, which raised money for both The Anthony Nolan Trust and Cancer Research UK and which was held at The Sands Venue in Gainsborough on late May Bank Holiday Monday.
He started writing last week and finished mid-afternoon of the concert!
Alex will be appearing at Ronny Scotts Jazz Club June 27 to July 2 and will be releasing a new album of latin jazz, 'Aventuras' on June 20.
View Alex's site on www.alexwilson.net